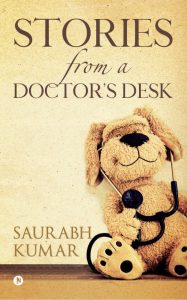 My journey to become a writer started three years back ,when I started telling stories which I found interesting in my daily practice to my friend Harikesh. He encouraged me that I should write them as he felt that I had a interesting way of telling a simple story. Just to satisfy my curiosity I started writing blog on my clinic website.My school friend Vinay helped me understand the ropes of blogging, being a doctor it was a completely new territory .The stories were quite appreciated by online readers and it gave me the courage to take a leap of faith and I started working on my book of short stories.
I started writing stories and after finishing them I used to send them to my close friends for their feedbacks. My friends and family supported me completely in the proccess .All stories in this book were inspired by true events only patients name and age had been changed, keeping in mind doctor patient confidentiality.
On completion of this book I would like to thank all my friends for their feedback and encouraging words.I cannot leave this page without naming them all , those include – my wife Tuhina, Satya , Dr Shankar, Dr K V ,Dr Vishal, Harikesh and Vinay.
Lastly I would like to thank Notion Press my publisher for giving opportunity to budding authors like me to showcase their talent.